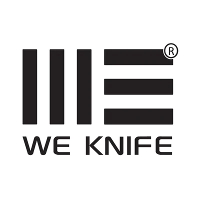 WE Knife Press Check Ti / G10, Silver Bead Blasted by Allen Elishewitz (WE20078A-2)
Press Check Ti / G10, Silver Bead Blasted the ultimate EDC knife. Allen Elishevitz design with aggressive Tanto blade in CPM 20CV steel. Opens with a quick flipper, titanium and G10 facings, ceramic bearings. Bestseller!
Press Check Ti / G10, Silver Bead Blasted is an exceptional knife aimed at the most demanding audience looking for an EDC knife made of the best materials. The folder combines extremely strong construction, ceramic ball bearings, titanium liners and clip, and the legendary workmanship that the iconic WE Knife brand is known for. Designed by one of the most famous knifemakers in the world, Allen Elishevitz!
Allen Elishewitz is an American knifemaker who has been creating custom knives for over 30 years. He is one of the men who made the EDC folding knife a popular accessory for men again. He has worked with some of the biggest companies in the knife industry creating designs that have become best sellers.
Steel
CPM-20CV is a martensitic stainless steel with extremely good wear resistance and excellent corrosion resistance. The target hardness is 58-60 HRc. CPM 20CV is a registered trademark of Crucible Industries LLC.
Blade
Tanto with aggressive shape and clearly marked belly finished in Silver Bead Blasted method. The small thickness of the blade combined with the high Flat Grind gives excellent cutting edge geometry and extreme cutting performance. Ceramic ball bearings support the smooth operation of the blade's opening mechanism, which can be opened with a quick flipper flipper (index-finger flipper). When opened, the flipper creates a mini-guard to prevent your hand from slipping on the blade. On the back of the blade there is a small hollow in which you can put your thumb during more precise works. The whole is locked with proven and popular frame lock with steel insert that protects against wiping the front of the lock.
Handle
Made of 6AL4V titanium, to which textured G10 inserts were attached. Chamfered cover edges eliminate sharp edges and fore finger groove improves grip security. The facings are screwed to an intricately machined titanium backspacer, giving the assurance of many years of use. The pivot is decorated with stylized WE Knife brand logo. Two-position (right/left) titanium deep carry clip allows you to carry the knife discreetly in your pocket in tip-up position. Above the clip lanyard hole, a hole for threading a safety or decorative cord.
Technical data:
Product number: WE20078A-2
Product name: Press Check Titanium / G10, Silver Bead Blasted
Overall length: 192.9 mm / 7.59"
Blade length: 80.0 mm / 3.15"
Handle Length: 112.9 mm / 4.44"
Blade thickness: 3.2 mm / 0.13"
Handle thickness: 12.5 mm / 0.49"
Weight: 110.8 g / 3.91 oz
Blade material: CPM 20CV
Blade hardness: 58-60 HRC
Blade grind: Flat
Blade finish: Silver Bead Blasted
Handle material: Titanium 6AL4V
Handle finish color: Gray / Black / Blue
Clip: Right/Left, Tip-Up
Material of the clip: Titanium 6AL4V
Pivot mechanism: Caged Ceramic Ball Bearing
Lock: Frame Lock
Designer: Allen Elishevitz
Brand name: WeKnife
Manufacturer: WE Knife
Developed by Sharg® Company