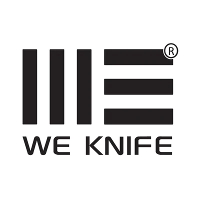 WE Knife Merata LE No 245/310 Titanium / Nebula Fat Carbon Fiber, Hand Rubbed Satin CPM 20CV by Anton Tkachenko (WE22008B-2)
WeKnife Merata Titanium / Fat Carbon Fiber Nebula, Hand Rubbed Satin LE. Limited to 310 pieces, knife numbered 245. A large, sturdy EDC folder designed by Anton Tkachenko, this is a stunning knife that will enhance any collection. "Must have!"
Merata Titanium / Fat Carbon Fiber Nebula, Hand Rubbed Satin LE (Limited Edition). Limited to 310 pieces, knife numbered 245. A large, sturdy folder designed by Anton Tkachenko with a hand-polished satin blade in sharp CPM 20CV super steel. Handle in professionally machined black titanium with lanyard hole and titanium clip on the right side. Reasonable weight and excellent ergonomics make the folder seem much more manageable - in hand and pocket - than almost any other knife of its size. "Must have!"
CPM 20CV - one of the finest tool steels, American premium martensitic stainless steel. Produced by US Crucible Industries using the particle metallurgy / Crucible® Particle Metallurgy (CPM) process. The CPM process produces a very homogeneous, high quality steel with excellent dimensional stability, grindability and ductility compared to steels produced by conventional methods. Designed to provide improved wear resistance while maintaining corrosion resistance at the highest level. This super steel is comparable to Bohler's M390 steel or Carpenter's CTS-204P. According to some knife manufacturers, 20CV is the best of these three steels in terms of edge retention. It consists of 1.9% carbon (C), 20.0% chromium (Cr), 4.0% vanadium (V), 1.0% molybdenum (Mo) and 0.6% tungsten (W). The high percentage of chromium with a touch of molybdenum makes 20CV one of the best high-grade corrosion-resistant steels.
Nebula Carbon Fiber - the latest design from Fat Carbon, a company specialising in the production of carbon fibre grips for knife handles! The unique design is inspired by the beauty and mystery of a distant galaxy and the nebula that contains it, the Veil Nebula <ang. Veil Nebula>. A remnant of a supernova, it serves as the inspiration for this product, which boasts an aesthetically pleasing design throughout its thickness. The pattern of the Nebula is consistent throughout the thickness of the insert, allowing for a breathtaking rendering on each knife handle.
Blade - trailing point type, finished by hand in an elegant Satin method. The generous belly extends the length of the cutting edge in relation to the length of the blade converging towards the needle-sharp, raised tip of the knife. The thickness of the blade provides high strength while the high, flat grind gives excellent cutting edge geometry and extreme cutting performance. Ball bearing ceramic supports the opening of the blade with a quick flipper (index-finger flipper) when opened acting as a stag. The entire blade is locked with the proven and popular frame lock with a steel insert to prevent the lock face from rubbing off.
Handle - made of 6AL4V titanium and Fat Carbon Nebula (coloured carbon fibre compressed under pressure with synthetic resin). Contouring of the covers eliminates sharp edges. The grips are bonded together with a titanium backspacer. The surface texture improves grip security. The simplicity and robustness of the construction ensure many years of use. The single-position (right) clip, made of heat-stained titanium, allows the knife to be carried in the tip-up position. At the top of the backspacer there is a place to thread a safety or decorative cord. As on other models, the pivot is decorated with a stylised manufacturer's logo.
Case - a soft zipped nylon case with the manufacturer's logo is included for safe storage and transport of the folder.
Technical data:
Product number: WE22008B-2
Product name: Merata LE No ???/310 Titanium / Fat Carbon Fiber Nebula, Hand Rubbed Satin
Overall length: 221.6 mm / 8.72"
Blade length: 93.5 mm / 3.68"
Blade thickness: 3.2 mm / 0.13"
Handle length: 128.1 mm / 5.04"
Handle thickness: 12.6 mm / 0.5"
Weight: 128.4 g / 4.53 oz
Blade material: CPM 20CV
Blade hardness: 58-60 HRC
Blade grind: Flat
Blade finish: Hand Rubbed Satin
Handle material: 6AL4V Titanium / Fat Carbon Fiber Nebula
Handle finish color: Gray / Multicolored
Backspacer material: 6AL4V Titanium
Backspacer colour: Multicolored
Clip: Right, Tip-Up
Clip material: Titanium 6AL4V
Pivot mechanism: Caged Ceramic Ball Bearing
Locking mechanism: Frame Lock
Opening method: Manual, flipper
Additional accessories: Pouch
Designer: Anton Tkachenko
Brand: WeKnife
Manufacturer: We Knife Co., Ltd.
Country of origin: P.R.C.
Development: Sharg® company