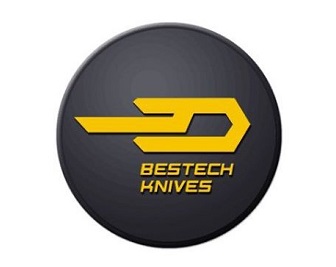 Bestech Knife Tardis OD Green G10, Black DLC/Satin D2 by Ostap Hel (BG54C)
Tardis OD Green G10, Black DLC/Satin latest design by Polish designer Ostap Hel and Bestech Knives. Compact size for easy carrying, comfortable G10 handle and D2 tool steel! A great companion for everyday outings!
Tardis OD Green G10, Black DLC / Satin the latest design by Polish designer Ostap Hel and Bestech Knives inspired by the cult series "Dr. Who" and its vehicle, the Tardis. Compact size for easy carrying, comfortable G10 handle and D2 tool steel! A great companion for everyday expeditions!
Ostap Hel - a talented Polish knifemaker and designer. His designs are based on the fundamentals of geometry, smooth transitions and the concept of "golden proportion". He is not afraid to experiment with new shapes and ideas to suit the unique style and production capabilities of the company he designs for.
D2 - a high-carbon, high-chromium high-speed tool steel heat-treated to 59-61 HRC. With a high chromium content of 13.0% (Cr), it offers greater corrosion resistance than most high-carbon steels. Combines strength, excellent edge holding and easy sharpening. It has high wear resistance due to its high carbide content in the microstructure.But 59-61 HRC. This super steel is comparable to Carpenter's CPM 20CV or CTS-204P steels. Manufactured by Böhler Edelstahl in Kapfenberg, Austria.
DLC (Diamond Like Carbon) durability of the blade surface is enhanced with a black matte nanocomposite coating, which exhibits the unique properties of natural diamonds, such as exceptional hardness and low friction, also corrosion resistance. It is one of the most resistant coatings to scratches and abrasion that are used in the industry, including the knife industry.
Blade - Cleaver (chopper) type with an elegant Two Tone finish, the blades are coated with black DLC coating, the rest is satin-finished. The straight line of the cutting edge converges towards the flat, safety end of the blade. The thickness of the blade, combined with the high, flat grind, gives excellent cutting edge geometry and extreme cutting performance. Ceramic ball bearings support the opening of the blade with a dual thumb stud in the wedge on both sides. A section of the back of the wedge is covered with an upper jimping, notched thumb rest for easy control of the knife. The whole thing is locked with the proven and popular liner lock.
Handle - made of G10 composite (pressure-pressed fiberglass with synthetic resin) with a thick and rough texture. Chamfered edges of the covers eliminate sharp edges for comfort and improve grip security. Open-backed design fixed with steel spacer sleeves reduces weight and facilitates cleaning. A single-sided (right) clip allows the knife to be carried in tip-up position, with the tip of the blade upward.
Technical data:
Product number: BG54C
Product name: Tardis OD Green G10, Black DLC / Satin
Overall length: 195.0 mm / 7.68"
Blade length: 80.0 mm / 3.15"
Blade thickness: 3.2 mm / 0.126"
Handle length: n.d.
Handle thickness: n.d.
Weight: 117.4 g / 4.14 oz
Blade material: D2
Blade hardness: 58-60 HRC
Blade grind: Flat
Blade finish: Two Tone, Black DLC / Satin
Handle material: G10
Handle finish color: OD Green
Backspacer material: Stainless Steel
Backspacer color: Black
Clip: Right, Tip-Up
Clip material: Stainless Steel
Pivot mechanism: Caged Ceramic Ball Bearing.
Locking mechanism: Liner Lock
Opening method: Manual, dual thumb stud
Additional accessories: None
Designer: Ostap Hel
Brand: Bestech
Manufacturer: Bestech Knives
Country of origin: P.R.C
Developed by: the Sharg® company
.More
Discover Infinite Possibilities – From Shooting to Outdoor Adventures!
Promotion Duration: December 1 - 6, 2023
---
Start Shopping and Grab Amazing Discounts!
Welcome to Sharg.pl, where your passions meet unbeatable deals! Our special "MORE, THE CHEAPER" promotion offers exclusive discounts on a wide range of products. Whether it's shooting, airguns, self-defense, tools, outdoor, indoor, or clothing and footwear – we have everything you need!
How It Works?
Buy 2 products and get 10% off
Buy 3 products and get 15% off
Buy 4 or more products and grab 20% off
Why Take Advantage of Our Offer?
Savings: More items in your cart, bigger discount on your purchases.
Choice: We offer a wide range of products catering to every enthusiast's needs.
Flexibility: The promotion allows for multiple uses - buy and save as many times as you want during the campaign.
Hassle-Free Returns: We are confident in the quality of our products, but if you change your mind, the return process is simple and transparent.
Don't Miss Out!
The promotion is time-limited and cannot be combined with other offers. Start your shopping now to take advantage of this exceptional opportunity. Remember, "MORE, THE CHEAPER" at Sharg.pl lasts only from December 1 to 6, 2023!