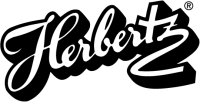 Herbertz Solingen Drop Point Micarta 82mm (266812)
Pocket knife by HERBERTZ SOLINGEN. Quite a massive folding knife with an interesting shape, whose handle is made of AISI 420 stainless steel with linings of durable Micarta plastic interwoven with gold inserts.
266812 - robust folding knife from the German company Herbertz Solingen.

Handle stainless steel combined with micarta interlaced with brass inserts. At the end of the handle there is a hole for attaching the safety cord.

Drop point profile blade - perfect for a working knife, the slight curvature makes cutting easier and the relatively sharp tip favours more precise work - is made of AISI440 stainless steel with a thickness of 3 mm. The Plain blade with full flat grind gives it very good cutting performance and high cutting fluidity.

The profiled handle provides a comfortable and secure grip during work. Safety of use is increased by the hollow in the handle which protects the index finger during intensive work.

In the open position the head is locked with the LinerLock, the durability and reliability of which is guaranteed by the appropriate thickness and strength of the locking spring.

This model will be perfect as an urban folding knife and also - thanks to its durability and ease of cleaning - during any off-road excursions.

Technical data:
Product number: 266812
Type of steel: AISI 420
Blade length: 82 mm / 3.14"
Blade thickness: 3 mm / 0.12"
Total length unfolded: 198 mm / 7.87"
Overall length folded: 120 / 4,72
Weight: 140 g
Blade: Plain
Blade type: Drop Point
Lock type: Liner Lock
Handle type: Mcarta
Manufacturer: C. Jul. HERBERTZ GmbH.