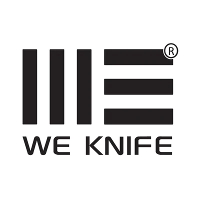 WE Knife Arrakis Champagne Ti / CF, Black M390 by Elijah Isham (906CF-B MYSTERY BOX)
Arrakis Champagne Titanium / Carbon Fiber, Black the highest quality EDC WeKnife. Aggressive Drop Point head of M390 steel. Quick Flipper opening, titanium linings, ceramic bearings. Plus, a surprise knife from the Civivi Knife offer.
Arrakis Champagne Ti / Carbon Fiber, Black special edition Arrakis knife in Mystery Box package with a free random Civivi knife. Aggressive Drop Point head in M390 steel. Flipper quick flipper opening, titanium facings, ceramic bearings. Designed by Elijah Isham.
Elijah Isham is an accomplished designer and knifemaker who designed for WE Knife their flagship model, the Eschaton, which began the company's fame in the knife industry. Arrakis is a return to the designs that leave no one indifferent, you just love them or hate them at first sight. 
Steel
M390 - martensitic high-performance chrome steel produced by powder metallurgy. Due to its alloy concept, it has extremely high wear resistance and high corrosion resistance. Due to its high wear resistance, it adequately maintains the shape of the edge, so the blade stays sharp for a very long time (requiring minimal maintenance). Another of the advantages is resistance to the formation of "wire" during sharpening. The steel has a high chromium content of 20.0% (Cr) doped with 1.9% carbon (C), vanadium 4.0% (V), and is hardened between 59-61 HRC. This super steel is comparable to Carpenter's CPM 20CV or CTS-204P steels. Manufactured by Böhler Edelstahl in Kapfenberg, Austria.
Blade
Drop Point with aggressive shape and clearly marked belly finished in Black Stonewashed method. Low thickness of blade in combination with high, flat grind gives perfect geometry of cutting edge and extreme cutting efficiency. Ceramic ball bearings support the smooth operation of the opening mechanism of the blade, which can be opened with a quick flipper flipper (index-finger flipper), so it can be easily used by right and left-handed people. We can also open it using the holes in the wedge. On the back of the blade there is a slight depression in which we can put our thumb during more precise works. The whole is locked with proven and popular frame lock with steel insert that protects against wiping the front of the lock.
Handle
Show off both designer and artist. Made of one piece of 6AL4V titanium, milled on 3D digital machine. Carbon Fiber inlays screwed directly to the handle. Single-position (right) clip, made of titanium, allows carrying the knife in tip-up position. As in other models, the pivot is decorated with a stylized logo of the manufacturer.
An elegant pouch for carrying/storing the knife is included.
Technical data:
Product number: 906CF-B Mystery Box
Product name: Arrakis Champagne Titanium / Carbon Fiber, Black
Total length: 203.0 mm / 8.0"
Blade length: 88.0 mm / 3.45"
Handle length: 115.0 mm / 4.55"
Blade thickness: 4.0 mm / 0.16"
Handle thickness: 14.0 mm / 0.55"
Weight: 87.0 g / 3.0 oz
Blade material: Bohler M390
Blade hardness: 59-61 HRC
Blade grind: Flat
Blade finish: Black Stonewash
Handle material: Titanium 6AL4V Inlay Carbon Fiber
Handle finish color: Champagne / Black
Clip: Single action (right), Tip-Up
Clip Material: Titanium 6AL4V
Pivot mechanism: Ceramic ball bearings
Lock: Frame Lock
Designer: Elijah Isham
Brand name: WeKnife
Manufacturer: We Knife Co., Ltd
Country of origin: P.R.C.
Developed by Sharg® Company