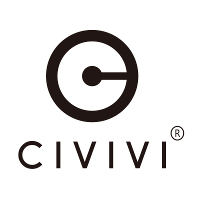 CIVIVI Chevalier Black G10, Stonewashed (C20022-1)
Chevalier Black G10, Stonewashed, EDC knife with sheepfoot head made of 14C28N stainless steel. Manufactured by CIVIVI Knife, the in-house brand of WE Knife producing the highest quality knives in the world!
Chevalier Black G10, Stonewashed single edge knife aimed at the discerning consumer. Easy to carry, perfectly balanced, E.D.C. craftsmanship with a versatile, utility blade. Excellent price/quality ratio. Bestseller!
Civivi - sub-brand of WE Knife, a company producing knives of the highest world quality. Production takes place on the same production lines as WE, thanks to which the highest assembly standards are maintained.
Steel
14C28N - a martensitic chrome stainless steel is the latest development in the range of knife steels produced by Sandvik's Swedish mills. An optimized chemical composition with a unique combination provides superior quality, excellent edge performance, high hardness and corrosion resistance. By reducing the amount of carbon 0.62% and increasing the chromium content 14.0%, as well as adding nitrogen 0.11%, the corrosion resistance has been significantly improved. Considered an improved version of 13C26 steel. Unbeatable in price/quality category!
Blade
Sheepsfoot type, perfectly presents Stonewashed finish. The smooth Plain blade has been given a high Flat Grind for strength, cutting edge geometry and extreme cutting performance. Ceramic ball bearings support the smooth operation of the blade's opening mechanism, which can be opened by gravity with a release button on one of the handles or with a quick flipper (index-finger flipper). When opened, the flipper creates a mini-guard to prevent your hand from slipping on the blade. On the back of the upper jimping blade, a notched thumb rest. All locked with proven Liner Lock.
Handle
Black G10 (compression-moulded fibreglass with synthetic resin) textured grip for better grip. Open-backed design secured to each other with steel spacers reduces weight and makes cleaning easier. Simple, solid construction gives assurance of many years of use. The pivot is decorated with a stylized Civivi brand logo. Metal double sided deep carry clip allows you to carry the knife discreetly in your pocket in tip-up position.
Carrying case
The knife is packaged in a zippered nylon soft pouch with the brand logo for safe carrying and storage of the folder.
Technical data:
Product number: C20022-1
Product name: Chevalier Black G10, Stonewashed
Overall length: 200.0 mm / 7.87"
Blade length: 88.0 mm / 3.46"
Handle length: 112.0 mm / 4.41"
Blade thickness: 3.0 mm / 0.12"
Handle thickness: 13.2 mm / 0.52"
Weight: 98.4 g / 3.47 oz
Blade material: 14C28N
Blade hardness: 58-60 HRC
Blade grind: Flat
Blade finish: Stonewashed
Handle material: G-10
Handle finish color: Black
Backspacer material: Stainless Steel
Backspacer color: Black
Clip: Right/Left, Tip-Up
Clip material: Stainless Steel
Pivot mechanism: Caged Ceramic Ball Bearing
Lock: Liner Lock
Designer: Civivi Knife
Brand: Civivi Knife
Manufacturer: WE Knife
Developed by Sharg® Company