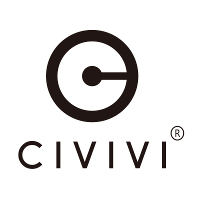 Civivi Vaquita II Natural G10, Satin Nitro-V by Nate Matlack knife (C047C-2)
Vaquita II Natural G10, Satin, a small EDC knife with a fixed blade designed by Nate Matlack. The shape of the blade is based on a kukri made of Nitro-V steel, the handle is made of G10. Sheath made of kydex, ball chain for hanging around the neck.
Vaquita II Natural G10, Satin, an undersized and extremely lightweight (39g) fixed blade EDC knife designed by Nate Matlack. The shape of the blade is reminiscent of a kukri made of Nitro-V steel, the handle is made of G10. Sheath made of kydex, with the possibility of attaching to the belt, ball chain for hanging around the neck.
Civivi - a sub-brand of WE Knife, a company that produces knives of the highest global quality. Production takes place on the same production lines as WE, so the highest standard of assembly is maintained.
Nate Matlack - a US-based knife maker and designer, a 22-year-old college student from Massachusetts. He bases and names his work in honor of endangered species. He creates using high-quality materials and practical designs to strike a balance between functionality and aesthetics. Vaquita is his first production knife design. His motto is "Functional Aesthetics."
Nitro-V stainless martensitic chrome-based knife steel introduced by New Jersey Steel Baron (NJSB). The manufacturer used the existing superior AEB-L knife steel and upgraded it with nitrogen and vanadium to improve edge performance and achieve high hardness and extreme corrosion resistance, especially crucial in the marine industry and humid environments. Nitro V can be used in diving knives because of its resistance to staining and corrosion. The recommended working hardness is between 58-62HRC, and it has very good impact strength compared to other steels. It is harder than stainless powder steels such as M390, Elmax and S35VN. Therefore, Nitro-V will be a good fit for knives that require good strength.
Blade - Kukri type finished in an elegant Satin method. Plain blade, high flat grind (Flat Grind) gives excellent cutting edge geometry and extreme cutting performance. Extremely high and long belly increases cutting efficiency, false blade increases piercing properties. The large choil makes the knife easy to maneuver for precision work.
Handle - grips made of G10 plastic (fiberglass compressed with synthetic resin) in natural color, with a slightly rough surface. The profiled shape provides a comfortable, secure grip even with wet hands. The fore finger groove made on the front improves grip security, while creating a guard to prevent the hand from slipping on the blade. In the back, a protruding piece of tango, which can be used as a glass breaker or self-defense tool. A hole for a decorative or safety line.
Sheath - made of kydex, extended, protecting the Blade along with part of the Handle. A set of holes on the edges provides multiple trouncing options. Complete with a ball chain for hanging the knife around the neck.
Technical data:
Product number: C047C-2
Product name: Vaquita II Natural G10, Satin
Overall length: 158.3 mm / 6.23"
Blade length: 81.3 mm / 3.2"
Blade thickness: 2.3 mm / 0.1"
Handle length: 77.0 mm / 3.03"
Handle thickness: 7.3 mm / 0.29"
Weight: 39.0 g / 1.38 oz
Blade material: Nitro-V
Blade hardness: 59-61 HRC
Blade grind: Flat
Blade finish: Satin
Handle material: G10
Handle finish color: Natural
Sheath (holster): Kydex
Additional accessories: ball chain
Designer: Nate Matlack
Brand: Civivi Knife
Manufacturer: WeKnife Co., Ltd.
Country of origin: P.R.C.
Developed by: the Sharg® company
.More
Discover Infinite Possibilities – From Shooting to Outdoor Adventures!
Promotion Duration: December 1 - 6, 2023
---
Start Shopping and Grab Amazing Discounts!
Welcome to Sharg.pl, where your passions meet unbeatable deals! Our special "MORE, THE CHEAPER" promotion offers exclusive discounts on a wide range of products. Whether it's shooting, airguns, self-defense, tools, outdoor, indoor, or clothing and footwear – we have everything you need!
How It Works?
Buy 2 products and get 10% off
Buy 3 products and get 15% off
Buy 4 or more products and grab 20% off
Why Take Advantage of Our Offer?
Savings: More items in your cart, bigger discount on your purchases.
Choice: We offer a wide range of products catering to every enthusiast's needs.
Flexibility: The promotion allows for multiple uses - buy and save as many times as you want during the campaign.
Hassle-Free Returns: We are confident in the quality of our products, but if you change your mind, the return process is simple and transparent.
Don't Miss Out!
The promotion is time-limited and cannot be combined with other offers. Start your shopping now to take advantage of this exceptional opportunity. Remember, "MORE, THE CHEAPER" at Sharg.pl lasts only from December 1 to 6, 2023!