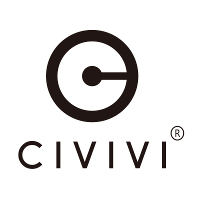 Civivi Hypersonic Black Steel / Burgundy G10, Black Stonewashed 14C28N by Gustavo T. Cecchini knife (C22011-3)
Hypersonic Black Steel / Burgundy G10, Black Stonewashed production version of the Hypersonic knife designed by Gustavo T. Cecchini of GTC. 14C28N steel blade, ergonomic steel and G10 handle. A knife that should permanently settle in pocket!
Hypersonic Black Steel / Burgundy G10 Inlay, Black Stonewashed production version of the custom Hypersonic knife designed by Gustavo T. Cecchini of GTC A sizable folding knife with the industrial design found in most of Gustavo's work, and the ergonomic handle design will fit all hand sizes.
Civivi - a sub-brand of WE Knife, a company that produces knives of the highest global quality. Production takes place on the same production lines as WE, so the highest standard of assembly is maintained.
Gustavo T. Cecchini - of GTC Knives, is a Brazilian-born knife maker and designer, agricultural engineer and knife enthusiast. While repairing agricultural machinery, he came across metalworking, and as a result began making knives with a fixed blade. However, it was folders that became his passion, with their variety of mechanisms and designs. His career as a knifemaker went rapidly bringing him more than 20 awards, several patents and a circle of friends around the world.
14C28N - a martensitic chromium stainless steel - is the latest development in a range of knife steels produced by Sweden's Sandvik steel mills. An optimized chemical composition with a unique combination provides superior quality, excellent edge performance, high hardness and corrosion resistance. By reducing the amount of carbon 0.62% (C) and increasing the chromium content 14.0% (Cr), as well as adding nitrogen 0.11% (N), corrosion resistance has been significantly improved. Considered an improved version of 13C26 steel. Unbeatable in the price / quality category!
Blade - Reverse Tanto type, provides the knife with greater piercing ability. Finished with a scratch-masking Black Stonewashed method. The long blade converges towards the needle-sharp tip of the knife. Milled symmetrically to the insert on the Handle, the recess in the blade strengthens it, and also makes it easier to open the knife. The small thickness of the wedge, combined with a high, flat grind (Flat Grind), gives excellent cutting edge geometry and extreme cutting performance. Ball bearing ceramic supports the smooth operation of the blade's opening mechanism, which can be opened with a quick flipper flipper (index-finger flipper). When opened, the flipper forms a mini-guard to prevent your hand from slipping on the blade. The locking mechanism is a proven and secure frame lock.
Handle - made of steel with G10 inserts, which, in addition to aesthetic qualities, increase grip security. Chamfered edges of the cover eliminate sharp edges for comfort, and the fore finger groove made on the front improves ergonomics of the grip. For increased structural rigidity, the grips are bolted to a solid steel backspacer. The pivot axis is decorated with a stylized Civivi brand logo. A single-position, right-side deep-carry clip allows you to carry the knife discreetly in your pocket in tip-up position (blade tip up).
Case - the knife is packed in a zippered soft nylon case with the brand's logo. It is used for safe storage and transportation of the folder.
Technical data:
Product number: C22011-3
Product name: Hypersonic Black Steel / Burgundy G10 Inlay, Black Stonewashed
Overall length: 222.0 mm / 8.74"
Blade length: 93.9 mm / 3.7"
Blade thickness: 3.0 mm / 0.12"
Handle length: 128.1 mm / 5.04"
Handle thickness: 11.0 mm / 0.43"
Weight: 167.6 g / 5.91 oz
Blade material: Sandvik 14C28N
Blade hardness: 57-59 HRC
Blade grind: Flat
Blade finish: Black Stonewashed
Handle material: Steel / G10
Handle finish color: Black / Burgundy
Backspacer material: Stainless Steel
Backspacer color: Black
Clip: Right, Tip-Up
Clip material: Stainless Steel
Pivot mechanism: Caged Ceramic Ball Bearing.
Locking mechanism: Frame Lock
Opening method: Manual, flipper, nail nick
Additional accessories: Pouch
Designer: Gustavo T. Cecchini (GTC Knives)
Brand name: Civivi Knife
Manufacturer: WeKnife Co., Ltd.
Country of origin: P.R.C.
Developed by: the Sharg® company