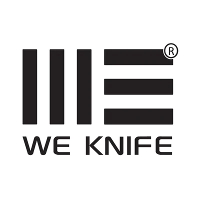 WE Knife Shakan LE No 090/210 Bronze Titanium, Gray Stonewashed CPM 20CV knife (WE20052B-2)
Shakan Bronze Titanium, Gray Stonewashed LE (Limited Edition). Limited edition limited to 210 pcs, folder with serial number 090. Extremely lightweight and flat so it disappears in any pocket, and that's what makes you want to carry it with you always!
Shakan Bronze Titanium, Gray Stonewashed LE (Limited Edition). Limited edition limited to only 210 copies, E.D.C. folder with serial number 090. The folder is Extremely light and flat so that it disappears in any pocket, and that's what determines that you want to have it with you always!
CPM 20CV - one of the best tool steels, American premium martensitic stainless steel. Manufactured by US Crucible Industries using the particle metallurgy / Crucible® Particle Metallurgy (CPM) method. The CPM process creates a very homogeneous, high-quality steel with excellent dimensional stability, grindability and ductility compared to steels produced by conventional methods. Designed to provide better wear resistance while maintaining corrosion resistance at the highest level. This super steel is comparable to Bohler's M390 steel or Carpenter's CTS-204P. According to some knife manufacturers, 20CV is the best of these three steels in terms of edge retention. It consists of 1.9% carbon (C), 20.0% chromium (Cr), 4.0% vanadium (V), 1.0% molybdenum (Mo) and 0.6% tungsten (W). The high percentage of chromium with a touch of molybdenum makes 20CV one of the best high-end corrosion-resistant steels.
Blade - drop point type, finished with a scratch-masking Gray Stonewashed finish. The generous belly extends the length of the cutting edge relative to the length of the blade converging towards the needle-sharp tip of the knife. The thickness of the blade provides high strength while the high, flat grind guarantees excellent cutting qualities almost on the level of a razor. Ball bearing ceramic supports the opening of the blade with a quick index-finger flipper (flipper) when opened acting as a stag. Finger choil, a cut under the index-finger prevents the blade from slipping when performing precision tasks. The whole is locked with a proven and popular frame lock with a steel insert to prevent wiping of the lock face.
Handle - made of titanium 6AL4V, beveled edges of the covers eliminate sharp edges. On the display side, a series of relieving holes were made, finished with a beautiful gold anodizing. An open-backed design fixed with titanium spacer sleeves reduces weight and facilitates cleaning. The pivot axis is decorated with a stylized WE Knife brand logo. Two-position (right/left) titanium deep-carry clip allows you to carry the knife discreetly in your pocket in tip-up position (blade tip up).
Case - included zippered soft nylon case with manufacturer's logo for safe storage and transportation of the folder.
Technical data:
Product number: WE20052B-2
Product name: Shakan Bronze Titanium, Gray Stonewashed LE No 090/210
Overall length: 176.4 mm / 6.87"
Blade length: 75.4 mm / 2.97"
Handle length: 99.2 mm / 3.91"
Thickness of blade: 3.2 mm / 0.13"
Handle thickness: 10.2 mm / 0.4"
Weight: 72.7 g / 2.56 oz
Blade material: CPM 20CV
Blade hardness: 59-61 HRC
Blade grind: Flat
Blade finish: Gray Stonewashed
Handle material: 6AL4V Titanium
Handle finish color: Bronze
Backspacer material: 6AL4V Titanium (spacer sleeves)
Backspacer color: Gold
Clip: Right, Tip-Up
Clip material: Titanium 6AL4V
Pivot mechanism: Caged Ceramic Ball Bearing.
Locking mechanism: Frame Lock
Opening method: Manual, flipper
Additional accessories: pouch
Designer: WE Knife
Brand: WeKnife
Manufacturer: We Knife Co., Ltd.
Country of origin: P.R.C.
Developed by: the Sharg® company.