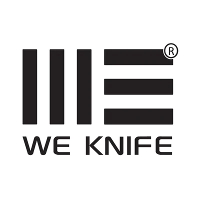 WE Knife Ziffius LE No 141/310 Black / Golden Titanium, Black Stonewashed / Satin CPM 20CV (WE22024D-1)
Ziffius Black / Golden Titanium, Black Stonewashed / Satin LE. Limited edition limited to 310 pcs, folder numbered 141. A striking knife, perfect as an all-purpose EDC. Beautiful integral backspacer made of thermally dyed titanium!
Ziffius Black / Golden Titanium, Black Stonewashed / Satin LE (Limited Edition). Stunning WE proprietary design from a limited edition limited to 310 pieces, the 141 numbered knife. A striking EDC folder with a beautiful integral backspacer made of thermally stained titanium and a strong button lock.
CPM 20CV - one of the best tool steels, American premium martensitic stainless steel. Manufactured by US Crucible Industries using the particle metallurgy / Crucible® Particle Metallurgy (CPM) method. The CPM process creates a very homogeneous, high-quality steel with excellent dimensional stability, grindability and ductility compared to steels produced by conventional methods. Designed to provide better wear resistance while maintaining corrosion resistance at the highest level. This super steel is comparable to Bohler's M390 steel or Carpenter's CTS-204P. According to some knife manufacturers, 20CV is the best of these three steels in terms of edge retention. It consists of 1.9% carbon (C), 20.0% chromium (Cr), 4.0% vanadium (V), 1.0% molybdenum (Mo) and 0.6% tungsten (W). The high percentage of chromium with a touch of molybdenum makes 20CV one of the best high-end corrosion-resistant steels.
Blade - wharncliffe type, finished impressively with Two Tone method, amphibians coated with black coating, satin back. The straight cutting edge converges towards the needle-sharp tip of the knife. The thickness of the blade provides high strength while the high, flat grind gives excellent cutting edge geometry and extreme cutting performance. Ball bearing ceramic supports the opening of the blade with a quick flipper (index-finger flipper) when opened acting as a stag. We can also open the knife with a dual thumb stud in the wedge. The whole thing is locked with a solid button lock. A spring is mounted under the lock button, providing sufficient resistance to avoid accidental opening.
Handle - made of solid titanium 6AL4V anodized black with gold accents. Contouring of the covers eliminates sharp edges. Grips are connected to each other with a titanium integral backspacer beautifully colored with a torch. The textured surface improves grip confidence. The simplicity and robustness of the design give confidence in many years of use. The single-position (right) clip, made of flame-dyed titanium, allows the knife to be carried in the tip-up position. Above the clip is a hole for threading a safety or decorative cord. The pivot is decorated with a circle of tinted titanium.
Case - a zippered soft nylon case with the manufacturer's logo for safe storage and transportation of the folder is included.
Technical data:
Product number: WE22024D-1
Product name: Ziffius LE No 141/310 Black/Golden Titanium, Black Stone Washed / Satin Flat
Overall length: 221.4 mm / 8.72"
Blade length: 93.9 mm / 3.7"
Blade Thickness: 3.2 mm / 0.13"
Handle length: 127.5 mm / 5.02"
Handle thickness: 12.2 mm / 0.48"
Weight: 136.9 g / 4.83 oz
Blade material: CPM 20CV
Blade hardness: 58-60 HRC
Blade grind: Flat
Blade finish: Two Tone, Black Stonewashed / Satin Flat
Handle material: 6AL4V Titanium
Handle finish color: Black / Gold
Backspacer material: 6AL4V Titanium
Backspacer color: Multicolored
Clip: Right, Tip-Up
Clip material: Titanium 6AL4V
Pivot Mechanism: Caged Ceramic Ball Bearing.
Locking mechanism: Button Lock
Opening method: Manual, flipper, dual thumb stud
Additional accessories: Pouch
Designer: We Knife
Brand name: WeKnife
Manufacturer: We Knife Co., Ltd.
Country of origin: P.R.C.
Developed by: the Sharg® company.