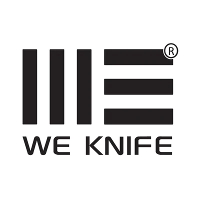 WE Knife Gesila Titanium Prybar MultiTool, Antique Bronze (A-08A)
WeKnife Gesila Antique Bronze, 6AL4V Titanium Prybar Multitool a compact multitool from WE for undermining/opening that we can always carry with us. Bestseller!
Gesila Titanium Prybar Multitool, Antique Bronze a compact multitool from WE for undermining/opening that we can always carry with us. Bestseller!
Pry bar - originally introduced to equip technician kits in the US Army. It was intended to be a simple and handy tool for undermining the lid of boxes or cans. It turned out that they excelled in this role, saving the knives commonly used in this role. Even the best of them are very sensitive to lateral stress and when trying to undermine something their tips bend or break. A small piece of steel or titanium with a crowbar tip does not cost much, and avoids damage to sometimes very expensive knives.
Titanium 6AL4V - is successfully used in the aerospace industry. It is used to build, among other things, parts of propulsion units or aircraft fuselage components. It is also used to produce golf clubs, surgical implants, shuttles for weaving machines, and due to its resistance to seawater, it is used to make parts of motor boats and yachts. In the field of mechanical and equipment engineering, there is a wide range of applications for this alloy. It is suitable for manufacturing parts subjected to high dynamic loads. It can also be used to cast disks for supercharger turbochargers operating at speeds of up to 600 m/s and temperatures of up to 300° C.
Construction - milled titanium plate, beveled on one side for easier undermining, also includes a bottle opener and titanium clip for convenience. A contoured recess makes it easier to pull out nails. On the back side, there is a hole for attaching our crowbar to keys, for example. It also improves the grip. All in an elegant Antique Bronze finish.
Technical data:
Product number: A-08A
Name: Gesila Antique Bronze, 6AL4V Titanium Prybar Multitool
Overall length: 121.0 mm / 4.76"
Thickness: 5.0 mm / 0.20"
Weight: 42.95 g / 1.51 oz
Material: 6AL4V Titanium
Finish: Antique Bronze
Designer: WeKnife
Brand: WeKnife
Manufacturer: WeKnife Co., Ltd.
Country of Origin: P.R.C.
Developed by: the Sharg® company
.More
Discover Infinite Possibilities – From Shooting to Outdoor Adventures!
Promotion Duration: December 1 - 6, 2023
---
Start Shopping and Grab Amazing Discounts!
Welcome to Sharg.pl, where your passions meet unbeatable deals! Our special "MORE, THE CHEAPER" promotion offers exclusive discounts on a wide range of products. Whether it's shooting, airguns, self-defense, tools, outdoor, indoor, or clothing and footwear – we have everything you need!
How It Works?
Buy 2 products and get 10% off
Buy 3 products and get 15% off
Buy 4 or more products and grab 20% off
Why Take Advantage of Our Offer?
Savings: More items in your cart, bigger discount on your purchases.
Choice: We offer a wide range of products catering to every enthusiast's needs.
Flexibility: The promotion allows for multiple uses - buy and save as many times as you want during the campaign.
Hassle-Free Returns: We are confident in the quality of our products, but if you change your mind, the return process is simple and transparent.
Don't Miss Out!
The promotion is time-limited and cannot be combined with other offers. Start your shopping now to take advantage of this exceptional opportunity. Remember, "MORE, THE CHEAPER" at Sharg.pl lasts only from December 1 to 6, 2023!