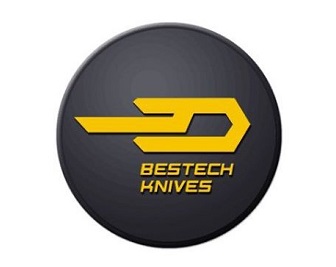 Bestech Knife The Reticulan Blue / Colorful Titanium, Damascus by Elijah Isham (BT1810L)
The Reticulan Blue / Colorful Titanium, Damascus, a premium EDC knife designed by Elijah Isham. Aggressive Sheepsfoot blade made of damascus with a unique design. Flipper quick opening, titanium grips, ceramic bearings.
The Reticulan Blue / Colorful Titanium, Damascus, an undersized elegant folding knife with a scabbard suitable for hanging around the neck. Designed by renowned knifemaker and designer Elijah Isham. The appearance of The Reticulan clearly highlights Elijah Isham's design style. His designs are often enhanced with artistic organic shapes and wavy lines. Without a doubt, The Reticulan is an extraordinary knife that will make you stand out from the crowd!
Elijah Isham was an outstanding designer and knifemaker who designed dozens of extraordinary knife models full of artistic visions. The Reticulan is a return to designs that leave no one indifferent, you simply love or hate them from the first glance.
Damascus - Damascus stainless steel blade with a unique design. A blade consisting of two different types of steel forged and put together in different ways getting this amazing pattern. It is characterized by high hardness in the range of 58-60 HRC.
Blade - sheepsfoot type with an aggressive shape, finished with etching that emphasizes the unique damascus patterns The small thickness of the blade combined with a high flat grind (Flat Grind) gives an excellent cutting edge geometry and extreme cutting performance. Ceramic ball bearings support the smooth operation of the blade's opening mechanism, which can be opened with a quick flipper flipper (index-finger flipper), so it can be easily used by right- and left-handed people. We can also open it using a hole in the wedge. On the back of the wedge a slight recess where we can place our thumb for more precise work. The whole thing is locked with a proven and popular frame lock with a steel insert to prevent wiping of the lock face.
Handle - made of solid titanium 6AL4V. The handle has been heat-treated to achieve a unique blue-based color pattern. Chamfered edges of the covers eliminate sharp edges for comfort and improve grip security. The solid titanium backspacer to which the grips are attached guarantees the rigidity and strength of the entire structure. A deep finger undercut (fore finger groove) improves grip confidence. A single-position, right-hand titanium clip allows the knife to be carried in tip-up position, with the tip of the blade upward.
Sheath - an added kydex sheath with a ball chain, allowing the knife to be worn around the neck.
Technical data:
Product number: BT1810L
Product name: The Reticulan Blue / Colorful Titanium, Damascus
Overall length: 127.0 mm / 5.0"
Blade length: 53.0 mm / 2.09"
Blade thickness: 2.6 mm / 0.1"
Handle length: n.d.
Handle thickness: n.d.
Weight: 35.0 g / 1.23 oz
Blade material: Damascus
Blade hardness: 59-61 HRC
Blade grind: Flat
Blade Finish: Acid Etched
Handle material: Titanium 6AL4V
Handle finish color: Blue / Colorful
Backspacer material: Titanium 6AL4V
Backspacer color: Blue / Colorful
Clip: Right, Tip-Up
Clip material: Titanium 6AL4V
Pivot mechanism: Caged Ceramic Ball Bearing.
Locking mechanism: Frame Lock
Opening method: Manual, thumb hole, flipper
Additional accessories: Sheath made of kydex, ball chain
Designer: Elijah Isham
Brand: Bestech
Manufacturer: Bestech Knives
Country of origin: P.R.C
Developed by: the Sharg® company
.More
Discover Infinite Possibilities – From Shooting to Outdoor Adventures!
Promotion Duration: December 1 - 6, 2023
---
Start Shopping and Grab Amazing Discounts!
Welcome to Sharg.pl, where your passions meet unbeatable deals! Our special "MORE, THE CHEAPER" promotion offers exclusive discounts on a wide range of products. Whether it's shooting, airguns, self-defense, tools, outdoor, indoor, or clothing and footwear – we have everything you need!
How It Works?
Buy 2 products and get 10% off
Buy 3 products and get 15% off
Buy 4 or more products and grab 20% off
Why Take Advantage of Our Offer?
Savings: More items in your cart, bigger discount on your purchases.
Choice: We offer a wide range of products catering to every enthusiast's needs.
Flexibility: The promotion allows for multiple uses - buy and save as many times as you want during the campaign.
Hassle-Free Returns: We are confident in the quality of our products, but if you change your mind, the return process is simple and transparent.
Don't Miss Out!
The promotion is time-limited and cannot be combined with other offers. Start your shopping now to take advantage of this exceptional opportunity. Remember, "MORE, THE CHEAPER" at Sharg.pl lasts only from December 1 to 6, 2023!