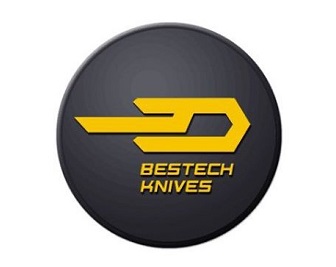 Bestech Knife Ornetta White G10, Black Stonewashed D2 by Kombou (BG50E)
Ornetta White G10, Black Stonewashed design by Grzegorz "Kombou" Grabarski. The blade with a refined grind line passing into a deep grain groove, thumb hole and flipper fin allow the blade to be opened in 3 ways. A bestseller!
Ornetta White G10, Black Stonewashed E.D.C. folder with excellent action and superb ergonomics designed by Gregory "Kombou" Grabarski. Blade designed for heavy use with a refined grind line passing into a deep blood groove deep blood groove slot, slotted thumb hole and index-finger flipper allow you to open the blade in three ways. Bestseller!
Grzegorz "Kombou" Grabarski - Polish graphic designer, photographer and talented knifemaker, chief knife maker at Bestech Knives. Known for his unconventional designs, breaking the stereotypes of knife design. Long cooperation with Bestech has resulted in exquisitely crafted knives made of the best materials, with a unique look.
D2 - high-carbon, high-chromium high-speed tool steel heat-treated to 59-60 HRC. With a high chromium content of 13.0% (Cr), it offers greater corrosion resistance than most high-carbon steels. Combines strength, excellent edge holding and easy sharpening. Features high wear resistance due to high carbide content in the microstructure.
Blade - drop point type, finished masking minor scratches with Stonewashed method and then covered with black coating. The long cutting edge converges towards the needle-sharp tip of the knife. Plain Plain blade, with grain to enhance durability. The thickness of the blade and the high, flat grind give excellent cutting edge geometry and extreme cutting performance. Ball bearing ceramic supports the opening of the blade in 3 ways, including a quick flipper (index-finger flipper) that acts as a deerstalker when opened. The knife can also be opened using a hole in the wedge. The whole thing is locked with a modern Liner Lock.
Handle - a strongly curved handle made of white G10 composite (pressure-pressed fiberglass with synthetic resin) provides an excellent grip in many positions. Chamfered cover edges eliminate sharp edges. Bolted to a solid steel backspacer, with a hole in the top for a safety or decorative cord. The pivot is decorated with a stylized letter "B". A single-position, right-side deep-carry clip allows you to carry the knife discreetly in your pocket in tip-up position (blade tip up). A fore finger groove improves grip security.
Technical data:
Product number: BG50E
Product name: Ornetta White G10, Black Stone Washed
Overall length: 213.0 mm / 8.39"
Blade length: 90.0 mm / 3.54"
Blade thickness: 3.5 mm / 0.14"
Handle length: b,d.
Handle thickness: n.d.
Weight: 124.0 g / 4.37 oz
Blade material: D2
Blade hardness: 58-60 HRC
Blade grind: Flat
Blade finish: Black Stonewashed
Handle material: G10
Handle finish color: White
Backspacer material: Stainless Steel
Backspacer color: Black
Clip: Right, Tip-Up
Clip material: Stainless Steel
Pivot mechanism: Caged Ceramic Ball Bearing.
Locking mechanism: Liner Lock
Opening method: Manual, flipper, thumb hole
Additional accessories: None
Designer: Grzegorz "Kombou" Grabarski
Brand name: Bestech
Manufacturer: Bestech Knives
Country of origin: P.R.C.
Developed by: the Sharg® company
.More
Discover Infinite Possibilities – From Shooting to Outdoor Adventures!
Promotion Duration: December 1 - 6, 2023
---
Start Shopping and Grab Amazing Discounts!
Welcome to Sharg.pl, where your passions meet unbeatable deals! Our special "MORE, THE CHEAPER" promotion offers exclusive discounts on a wide range of products. Whether it's shooting, airguns, self-defense, tools, outdoor, indoor, or clothing and footwear – we have everything you need!
How It Works?
Buy 2 products and get 10% off
Buy 3 products and get 15% off
Buy 4 or more products and grab 20% off
Why Take Advantage of Our Offer?
Savings: More items in your cart, bigger discount on your purchases.
Choice: We offer a wide range of products catering to every enthusiast's needs.
Flexibility: The promotion allows for multiple uses - buy and save as many times as you want during the campaign.
Hassle-Free Returns: We are confident in the quality of our products, but if you change your mind, the return process is simple and transparent.
Don't Miss Out!
The promotion is time-limited and cannot be combined with other offers. Start your shopping now to take advantage of this exceptional opportunity. Remember, "MORE, THE CHEAPER" at Sharg.pl lasts only from December 1 to 6, 2023!