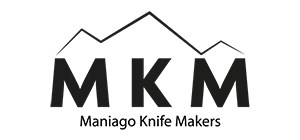 MKM Knife Makro 1 Natural Canvas Micarta, Stone Washed by Voxnæs (MKMA01-NC)
Macro 1 Natural Canvas Micarta, Stone Washed, design by Voxnæs. Forged from a single piece of M390 steel, this is a lightweight knife from the Italian brand MKM. Comfortable Handle and razor-sharp, short strong blade with rounded cutting edge
Macro 1 Natural Canvas Micarta, Stone Washed, design by Jesper Voxnæs. Forged from a single piece of excellent M390 tool steel, a lightweight (only 66g!) knife that can serve as both an urban EDC and a handy off-road knife by Italian brand MKM. Comfortable Micarta Handle and razor-sharp, short strong blade with rounded cutting edge.
M390 - martensitic high-performance chrome steel produced by powder metallurgy. Due to the alloy concept, it has extremely high wear resistance and high corrosion resistance. Due to its high wear resistance, it adequately maintains the shape of the edge, so the blade stays sharp for a very long time (requiring minimal maintenance). Another of the advantages is resistance to the formation of "wire" during sharpening. The steel has a high chromium content of 20.0% (Cr) doped with 1.9% carbon (C), vanadium 4.0% (V), and is hardened between 59-61 HRC. This super steel is comparable to Carpenter's CPM 20CV or CTS-204P steels. Manufactured by Böhler Edelstahl in Kapfenberg, Austria.
Blade - Drop Point type with clearly marked belly has been finished masking minor scratches, with Stone Washed coating. The solid thickness of the blade, combined with a high, flat grind, gives us an extremely effective cutting tool with great durability. Spine jimping, a notched support on the Blade's back, and finger choil, an undercut for the index finger, provide precise control of cutting direction.
Handle - is the result of ergonomics research, despite its size, provides a secure grip. Made of Canvas Micarta laminate, a virtually indestructible plastic insensitive to weather, resistant to chemicals and mechanical damage, attached directly to the blank, provides a virtually indestructible design. The rounded shape of the covers eliminates sharp edges. The protruding section of the tang contains an enlarged lanyard hole, which is a hole for attaching a belaying line, and can also be used as an improvised hammer.
Sheath - when designing, great emphasis was placed on the ease of carrying and retrieving the knife. Flat, lightweight holster made of natural, high-quality leather. Innovative fastening using magnets gives many options for attaching the Sheath to the belt, edge of the pocket or the shoulder stock.
T6/T8 torx keys are included with the knife.
Technical data:
Product number: MKMA01-NC
Product name: Macro 1 Natural Canvas Micarta, Stone Washed
Overall length: 166.0 mm / 6.54"
Blade length: 73.0 mm / 2.87"
Blade thickness: 4.0 mm / 0.16"
Handle length: n.d.
Handle thickness: n.d.
Weight: 66.0 g / 2.33 oz
Blade material: Böhler M390 Microclean®
Blade hardness: 58-60 HRC
Blade grind: Flat
Blade finish: Stone Washed
Handle material: Canvas Micarta
Handle finish color: Natural
Sheath (holster): Leather with magnetic handle
Additional accessories: T6/T8 torx keys
Designer: Jesper Voxnæs
Brand: MKM
Manufacturer: Maniago Knife Makers, Italy
Country of origin: Italy
Developed by: the Sharg® company