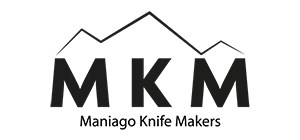 MKM Knife Isonzo Clip Point Green Canvas Micarta, Stonewashed M390 by Jesper Voxnæs (MK FX03M-3GC)
Isonzo Clip Point Green Canvas Micarta, Stonewashed EDC folding knife designed by Jesper Voxnæs. Backspacer with a large cord hole, the knife can be attached to your gear with a snap hook, making it the perfect tool for out-of-town trips!
Isonzo Clip Point Green Canvas Micarta, Stonewashed folder from E.D.C. that combines craftsmanship with the finest materials. Extremely handy and easy to carry due to its dimensions. Thanks to the backspacer, which serves as a rope opening, the pocket knife can be attached to your gear with a carabiner, making it an ideal tool for mountain climbing or hiking. Designed by Danish knifemaker Jesper Voxnaes.
M390 - a martensitic high-performance chrome steel produced by powder metallurgy. Due to the alloy concept, it has extremely high wear resistance and high corrosion resistance. Due to its high wear resistance, it adequately maintains the shape of the edge, so the blade stays sharp for a very long time (requiring minimal maintenance). Another of the advantages is resistance to the formation of "wire" during sharpening. The steel has a high chromium content of 20.0% (Cr) doped with 1.9% carbon (C), vanadium 4.0% (V), and is hardened between 59-61 HRC. This super steel is comparable to Carpenter's CPM 20CV or CTS-204P steels. Manufactured by Böhler Edelstahl in Kapfenberg, Austria.
Blade - Clip Point type with a prominent belly provides excellent edge geometry and extreme cutting performance. The blade is finished with a scratch-masking Stonewashed finish. Short blade with jimped thumb ramp, a curved notched thumb ramp for precise control. Opened with an elongated opening in the wedge. The small thickness of the blade, combined with a high, flat grind, gives us cutting properties almost on the level of a razor. The whole thing is locked with a proven liner-lock.
Handle - grips made of CNC-milled Canvas Micarta, a virtually indestructible material insensitive to weather conditions, resistant to chemicals and mechanical damage. Bolted to a carbine-shaped backspacer, deeply textured to improve grip. The backspacer and the decorative ring around the pivot, the so-called pivot collar, are made of bronze anodized titanium. A two-position left/right compact deep-pocket wire clip allows the knife to be carried in tip-up position (blade tip up).
Includes a 6/8 size torx service wrench and a pouch for storing and carrying the knife.
Technical data:
Product number: MK FX03M-3GC
Product name: Isonzo Clip Point Green Canvas Micarta, Stonewashed
Overall length: 145.0 mm / 5.71"
Blade length: 49.0 mm / 1.93"
Blade thickness: 3.0 mm / 0.12"
Handle length: 86.0 mm / 3.37"
Handle thickness: n.a.
Weight: 70.0 g / 2.47 oz
Blade material: Böhler M390
Blade hardness: 58 - 60 HRC
Blade grind: Flat
Blade finish: Stonewashed
Handle material: Canvas Micarta
Handle finish color: Green
Backspacer material: Titanium
Backspacer color: Bronze
Clip: Right/left, Tip-up
Clip material: Stainless steel
Pivot mechanism: washers
Locking mechanism: Liner lock
Opening method: Manual, thumb hole
Additional accessories: Pouch, Torx 6/8 wrench
Designer: Jesper Voxnaes
Brand: MKM
Manufacturer: Maniago Knife Makers, Italy
Country of origin: Italy
Developed by: the Sharg® company
.More
Discover Infinite Possibilities – From Shooting to Outdoor Adventures!
Promotion Duration: December 1 - 6, 2023
---
Start Shopping and Grab Amazing Discounts!
Welcome to Sharg.pl, where your passions meet unbeatable deals! Our special "MORE, THE CHEAPER" promotion offers exclusive discounts on a wide range of products. Whether it's shooting, airguns, self-defense, tools, outdoor, indoor, or clothing and footwear – we have everything you need!
How It Works?
Buy 2 products and get 10% off
Buy 3 products and get 15% off
Buy 4 or more products and grab 20% off
Why Take Advantage of Our Offer?
Savings: More items in your cart, bigger discount on your purchases.
Choice: We offer a wide range of products catering to every enthusiast's needs.
Flexibility: The promotion allows for multiple uses - buy and save as many times as you want during the campaign.
Hassle-Free Returns: We are confident in the quality of our products, but if you change your mind, the return process is simple and transparent.
Don't Miss Out!
The promotion is time-limited and cannot be combined with other offers. Start your shopping now to take advantage of this exceptional opportunity. Remember, "MORE, THE CHEAPER" at Sharg.pl lasts only from December 1 to 6, 2023!