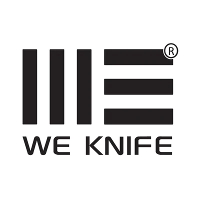 WE Knife Diatomic Polished Bead Blasted Titanium, Polished Bead Blasted CPM 20CV (WE22032-2)
WeKnife Diatomic Polished Bead Blasted Titanium, Polished Bead Blasted, winner of the Best Factory Tactical award at the BLADE Show Texas 2023. An absolute display of engineering mastery and superior workmanship. Superior CPM 20CV steel, titanium handle.
Diatomic Polished Bead Blasted Titanium, Polished Bead Blasted, winner of "Best Factory Tactical Knife" award at the Blade Show Texas 2023 and "Best Factory Folder" award at the USN Gathering 2023. An absolute display of engineering mastery, design innovation and superior workmanship. Superb CPM 20CV steel, titanium milled handle. This remarkable knife will stand out among others!
CPM S20CV - one of the best tool steels in the world, American premium martensitic stainless steel. Manufactured by US Crucible Industries according to the Crucible® Particle Metallurgy (CPM) process. The CPM process yields a very homogeneous, high-quality steel with excellent dimensional stability, grindability and ductility compared to steels produced by conventional methods. Designed to provide better wear resistance while maintaining corrosion resistance at the highest level. This super steel is comparable to Bohler's M390 steel or Carpenter's CTS-204P. According to some knife manufacturers, 20CV is the best of these three steels in terms of edge retention. It consists of 19.0% carbon, 20.0% chromium, 4.0% vanadium, 1.0% molybdenum and 0.6% tungsten. The high percentage of chromium with a touch of molybdenum makes 20CV one of the best high-end corrosion-resistant steels.
Blade - Dagger type, sharpened on one side, finished with a scratch-masking Bead Blasted method and then carefully polished. The light belly extends the length of the cutting edge relative to the length of the blade converging toward the needle-sharp tip of the knife. The light thickness combined with a high flat grind (Flat Grind) gives excellent cutting properties combined with high strength. Ball bearing ceramic bearings support the smooth operation of the blade's opening mechanism, which can be opened with a quick flipper flipper (index-finger flipper). When opened, the flipper forms a mini-guard to prevent your hand from slipping on the blade. The whole thing is locked with the proven and popular frame lock with a steel insert that prevents the lock face from rubbing off.
Handle - this is a show off of the innovation of the designers from WeKnife. Two pieces of 6AL4V titanium, beautifully milled are joined at the end by a titanium cap made of a single piece of titanium. This allows the Handle to maintain incredible rigidity and resistance. Only a few companies are able to make the Handle with such incredible accuracy! Another innovation is symmetrically placed on both sides of the knife clips for carrying. No more unscrewing screws and rearranging, we can carry the knife on the right and left side in the same position. An additional flavor is that the clips are finished with a roller, so it is easier to insert and hook the knife on the edge of the material.
Case - a zippered soft nylon case with the manufacturer's logo is included for safe storage and transportation of the folder.
Technical data:
Product number: WE22032-2
Product name: Diatomic Polished Bead Blasted Titanium, Polished Bead Blasted
Overall length: 217.2 mm / 8.55"
Blade length: 96.1 mm / 3.78"
Blade thickness: 4.0 mm / 0.16"
Handle length: 121.1 mm / 4.77"
Handle thickness: 16.0 mm / 0.63"
Weight: 99.5 g / 3.51 oz
Blade material: CPM 20CV
Blade hardness: 58-60 HRC
Blade grind: Flat
Blade Finish: Polished Bead Blasted
Handle material: 6AL4V Titanium
Handle finish color: Polished Bead Blasted
Backspacer material: 6AL4V Titanium
Backspacer color: Gray
Clip: Right / Left, Tip-Down
Clip material: Titanium 6AL4V
Pivot mechanism: Caged Ceramic Ball Bearing.
Locking mechanism: Frame Lock
Opening method: Manual, flipper
Additional accessories: Pouch
Designer: WE Knife
Brand name: WeKnife
Manufacturer: We Knife Co., Ltd.
Country of origin: P.R.C.
Developed by: the Sharg® company