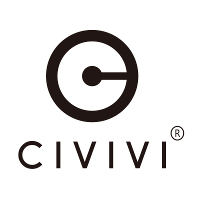 Civivi Knife Brazen Button Lock Black G10, Stonewashed 14C28N (C19059C-1)
Brazen Button Lock Black G10, Stonewashed new edition of the popular folding knife from Civivi. The main change is the intuitive button lock and superior 14C28N stainless steel. You can now open the knife in three ways. A bestseller!
Brazen Button Lock Black G10, Stonewashed new edition of the popular tanto blade folding knife from Civivi. The main change is the intuitive button lock and superior 14C28N stainless steel. The Thumb Stud on both sides, the quick flipper (index-finger flipper) and the blade with shifted centre of gravity (gravity opening) allow the blade to be opened in three ways. Made of good materials at an attractive price. Bestseller!
Civivi - a sub-brand of WE Knife, a company producing knives of the highest world quality. Production is on the same production lines as WE, so the highest standard of assembly is maintained.
14C28N - a martensitic chromium stainless steel is the latest development in the range of knife steels produced by Sandvik's Swedish mills. An optimised chemical composition with a unique combination provides superior quality, excellent edge performance, high hardness and corrosion resistance. By reducing the amount of carbon 0.62% (C) and increasing the chromium content 14.0% (Cr), as well as adding nitrogen 0.11% (N), corrosion resistance is significantly increased. Considered an improved version of 13C26 steel. Unbeatable in the price/quality category!
Blade - tanto type, finished to mask minor scratches using the Stonewashed method. The generous tip extends the length of the cutting edge in relation to the Blade length, converging towards the needle-sharp tip of the knife. The small thickness of the blade combined with the high, flat grind (Flat Grind) results in excellent cutting edge geometry and extreme cutting performance. Ceramic ball bearings are responsible for the smooth and smooth operation of the blade opening mechanism. The flipper fin has been slimmed down so that it does not protrude sharply above the line of the handle. When opened, it forms a mini-guard preventing the hand from slipping on the blade. The knife can also be opened by means of a dual thumb stud in the handle. On the back of the upper jimping wedge, a notched thumb rest. The entire blade is locked with a solid button lock. Underneath the button lock, there is a resisted spring that prevents accidental release.
Handle - black G10 (fibreglass compressed with synthetic resin) grips with a characteristic surface texture, which have been screwed to steel liners. The contoured covers eliminate sharp edges for comfort and sure grip. The open-backed design, fixed with steel spacer sleeves, reduces weight and facilitates cleaning. The pivot is decorated with a stylised Civivi brand logo. The two-position, right/left deep carry clip allows the knife to be carried discreetly in the pocket in the tip-up position (blade tip up).
Carrying case - the knife is packaged in a zippered nylon soft pouch with the brand logo for securely carrying and storing the folder.
Technical data:
Product number: C19059C-1
Product name: Brazen Button Lock Black G10, Stonewashed
Overall length: 202.7mm / 7.98"
Blade length: 88.0 mm / 3.46"
Blade thickness: 3.0 mm / 0.12"
Handle length: 114.6 mm / 4.51"
Handle thickness: 13.0 mm / 0.51"
Weight: 110.8 g / 3.91 oz
Blade material: Sandvik 14C28N
Blade hardness: 58-60 HRC
Blade grind: Flat
Blade finish: Stonewashed
Handle material: G10
Handle finish color: Black
Backspacer material: Stainless Steel (spacer sleeves)
Backspacer colour: Gray
Clip: Right/Left, Tip-Up
Clip material: Stainless Steel
Pivot mechanism: Caged Ceramic Ball Bearing
Locking mechanism: Button Lock
Opening method: Manual, dual thumb stud, flipper
Additional accessories: Pouch
Designer: Civivi
Brand: Civivi Knife
Manufacturer: WeKnife Co., Ltd.
Country of origin: P.R.C.
Developed by: Sharg® company
.More
Discover Infinite Possibilities – From Shooting to Outdoor Adventures!
Promotion Duration: December 1 - 6, 2023
---
Start Shopping and Grab Amazing Discounts!
Welcome to Sharg.pl, where your passions meet unbeatable deals! Our special "MORE, THE CHEAPER" promotion offers exclusive discounts on a wide range of products. Whether it's shooting, airguns, self-defense, tools, outdoor, indoor, or clothing and footwear – we have everything you need!
How It Works?
Buy 2 products and get 10% off
Buy 3 products and get 15% off
Buy 4 or more products and grab 20% off
Why Take Advantage of Our Offer?
Savings: More items in your cart, bigger discount on your purchases.
Choice: We offer a wide range of products catering to every enthusiast's needs.
Flexibility: The promotion allows for multiple uses - buy and save as many times as you want during the campaign.
Hassle-Free Returns: We are confident in the quality of our products, but if you change your mind, the return process is simple and transparent.
Don't Miss Out!
The promotion is time-limited and cannot be combined with other offers. Start your shopping now to take advantage of this exceptional opportunity. Remember, "MORE, THE CHEAPER" at Sharg.pl lasts only from December 1 to 6, 2023!